Speech
COMMEMORATION OF THE INTERNATIONAL YEAR OF MILLETS 2023
REMARKS BY MS. BEATRICE MUTALI, UN RESIDENT COORDINATOR- COMMEMORATION OF THE INTERNATIONAL YEAR OF MILLETS 2023
Hon. Reuben Mtolo, MP, Minister of Agriculture
The Permanent secretary, Ministry of Agriculture
Senior Government Officials
Mr. Ashok Kumar, High Commissioner of India in Zambia & Special Representative to COMESA
FAO Representative Ms. Suze Percy Filippini and Mr. Marcos Filippini
Distinguished Ambassadors and High commissioners
Heads of UN Agencies
Distinguished Guests
Ladies and Gentlemen
I am delighted to share a few remarks on this important occasion as we commemorate the International Year of Millets.
As alluded to by the FAO Representative, the proposal for an International Year of Millets (2023) was put forth by the Government of India, endorsed by Members of FAO Governing Bodies and adopted by the 75th Session of the UN General Assembly in March 2021.
It is, therefore, good to note that the Government of India through the High Commission working in collaboration with the Government of Zambia and the Food and Agriculture Organization is already embarking on inception activities such as this inaugural event.
We hope this inaugural event will culminate into joint strategic efforts that will lead to unprecedented growth in the production of one of the most important crops for Zambia. 
Hon. Minister, Distinguished guests, Ladies and Gentlemen
Over the past two decades, Zambia with the support of cooperating partners has put in place several measures in various sectors of the economy to address poverty, hunger, malnutrition, and income inequality. However, progress in addressing these challenges has been slow.
Turning to the region, the number of people facing acute food insecurity in Southern Africa during the peak lean period, between January and March 2023, is estimated at 16 million people, excluding South Africa, based on the IPC analysis and where the national official estimates were not available. This is above the 13 million people in need of humanitarian assistance one year before.
Total cereal production in Southern Africa is estimated at an average level, but down compared to the previous year owing to a poor rainfall distribution. The reduced cereal harvests and elevated prices of food commodities, coupled with the high headline inflation rates, underlie the increase in acute food insecurity, while forecast slowdowns in economic growth will impact income-earning opportunities and weigh on households' purchasing power.
On the other hand, the Low-Income Food Deficit Countries (LIFDCs) in Africa are forecast to produce about 111.5 million tonnes of cereals in 2022, a slight reduction compared to the five-year average. The production decline mostly reflects the impact of multi season drought conditions in East Africa, which caused production decreases in the leading producers, namely Ethiopia, Kenya and Uganda.
With heightened prospects for acute food insecurity and acute hunger, a deepening climate crisis and aggravating environmental stresses, there is a heightened need for crop diversification by promoting crops suitable for cultivation in the toughest of environments. 
Acknowledging the role of millets in responding to nutritional, agrarian and climate challenges, the UN resolution considers the "urgent need to raise awareness of the climate-resilient and nutritional benefits of millets and to advocate for diversified, balanced and healthy diets through the increased sustainable production and consumption of millets."
The International Year of Millets stands to provide a unique opportunity to increase production, ensure efficient processing and consumption, promote better utilization of crop rotations, and encourage better connectivity throughout food systems to promote millets as a key component of the food basket.
Millets are among the first plants to be domesticated and are considered "nutri-cereals" due to their high nutritional content. They have served as a traditional staple for hundreds of millions of people in Sub-Saharan Africa and Asia for 7 000 years, and are now cultivated across the world. However, their cultivation is declining in many countries, and their potential to address climate change and food security is not being realized in full. This is despite the fact that millets can grow on relatively poor soils and under adverse and arid conditions, with comparatively fewer inputs than other cereals.
Millets are rich in vitamins and minerals, including iron and calcium; are high in protein, fiber, resistant starch, and have a low glycemic index, which can help prevent or manage diabetes. 
The need to promote the diversity and nutritional and ecological benefits of millets to consumers, producers, value chain actors, and decision makers is timely, and can improve food sector linkages.
As I close, let me note that the International Year of Millets will elevate awareness of the contribution of millets for food security and nutrition, inspire stakeholders on improving sustainable production and quality of millets; and draw attention to enhanced investment in research and development and extension services to achieve the other two aims.
Hon. Minister, Distinguished guests, Ladies and Gentlemen
I wish to thank you for your attention and wish to underscore the commitment of the United Nations in supporting the Government and people of Zambia in ensuring food security in the nation. I wish you all a fruitful inaugural event as we embark on an important mission to accelerate the growth of millet production in Zambia. Together, we can make a difference and attain food security, leaving no one behind.
I thank you.
Speech by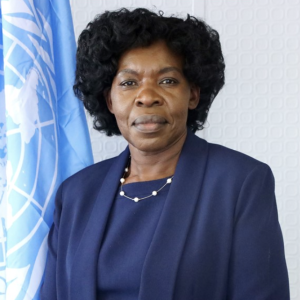 Beatrice Mutali
UN
Resident Coordinator
UN entities involved in this initiative
FAO
Food and Agriculture Organization of the United Nations