The UN Resident Coordinator Office
The Resident Coordinator (RC) represents the UN system as a whole. The UN Development System is now strengthened with a new reinvigorated Resident Coordinator system with an independent, empowered Resident Coordinator at its centre. Effective 1 January 2019, the Resident Coordinator is not, like before, also the Resident Representative of the United Nations Development Programme (UNDP). The Resident Coordinator is now independent of any agency. With the reform, the functions of the Resident Coordinator are now separated from those of the Resident Representative of UNDP.
The UN Resident Coordinator system encompasses all organizations of the United Nations system dealing with operational activities for development, regardless of their formal presence in the country. The RC system aims to bring together the different UN agencies to improve the efficiency and effectiveness of operational activities at the country level.
The UN Resident Coordinator's Office (RCO) facilitates and coordinates the work towards achieving agreed UN Country Team results. This includes UN inter-agency coordination and performance management under the UN Sustainable Development Partnership Framework and joint programmes and supporting common UN platforms for policy analysis, monitoring and evaluation, knowledge management, communication and advocacy. The RCO also supports UN engagement on the national aid effectiveness agenda and promotes UN system wide collaboration with relevant state, non-state actors, and cooperating partners.
The Resident Coordinator in Zambia
On May 8, United Nations Secretary-General António Guterres appointed Beatrice Mutali of Kenya and the United Kingdom as the United Nations Resident Coordinator in Zambia, with the approval of the host government.
Ms. Beatrice Mutali brings more than 25 years of private and public sector experience within the area of sexual and reproductive health and rights, covering Middle- and Low-Income countries, and a combination of development and humanitarian contexts.
Prior to her appointment as UN Resident Coordinator, she served as United Nations Population Fund (UNFPA) Deputy Regional Director for East and Southern Africa, UNFPA's Representative to South Africa and Country Director for Botswana and Eswatini, and UNFPA's Deputy Regional Director for West and Central Africa. In all these positions, she has led successful strategy development and implementation, policy engagement, resource mobilization, programme management, and has built strong partnerships.
Prior to joining the UN system in 2014, Ms. Mutali held several leadership roles within the area of Family Planning, HIV/AIDS and Sexual and Reproductive Health from organizations such as Merck/MSD, the International HIV/AIDS Alliance, the International Planned Parenthood Federation and Planned Parenthood Federation of America.
Ms. Beatrice Mutali holds a master's degree and a bachelor's degree in Economics from Kurukshetra University, India.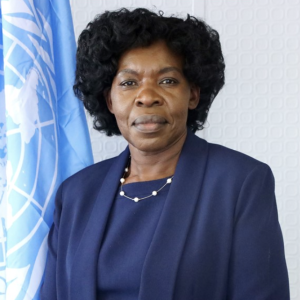 Beatrice Mutali
Resident Coordinator