Speech
International Anti-Corruption Day Commemoration
Remarks by United Nations Resident Coordinator, Ms. Beatrice Mutali - International Anti-Corruption Day commemoration
▪ The President of the Republic of Zambia, Your Excellency Mr. Hakainde Hichilema
▪ Cabinet Ministers
▪ Permanent Secretaries
▪ The Director General, Anti-Corruption Commission
▪ Members of the Diplomatic Corps
▪ Colleagues from the United Nations
▪ Distinguished guests
▪ Members of the Press
▪ Ladies and Gentlemen
I am delighted to be here this morning as we mark the International Anti-Corruption Day which was designated by the UN General Assembly in 2003. Today calls for a special celebration. In 2001, the SADC Protocol Against Corruption which is guided by the United Nations Convention Against Corruption was adopted by Zambia and the other Heads of State of 14 SADC Member Countries-- thus a demonstration of their commitment to fight corruption.
By observing the International Anti-Corruption Day, Zambia joins the global community in re-affirming its commitment to preventing and countering corruption through the effective implementation of the United Nations Convention Against Corruption.
The UN Convention, which is the sole legally binding universal anti-corruption instrument, has been ratified by 189 States and therefore nearing universal ratification. The Convention's far-reaching approach and the mandatory character of many of its provisions makes it a unique tool for developing a comprehensive response to fighting corruption. On 11 December 2007, Zambia ratified the Convention. Despite the ratification, this global scourge continues to negatively impact the enjoyment of human rights and takes away resources that could go to development and improving people's lives.
The theme of the 2022 International Anti-Corruption Day emphasizes interconnectivity between anti-corruption, peace, security, and development. At its core is the notion that tackling corruption is the right and responsibility of everyone and that it is only through cooperation and involvement of each and every person and institution, that societies can successfully tackle endemic corruption.
Your Excellency, Ladies and gentlemen, corruption violates our human rights. It threatens our security. It drives organized crime. It corrodes our economy. It crushes opportunities for development. And it traps people in cycles of inequality and poverty.
We therefore must stop corruption because our communities are losing resources and countless opportunities to develop and secure better lives, including those of the children and youth, our future generations.
We must create opportunities, incubating inter-generational strategies to enable the youth to fulfil their role as the future guardians of good governance, human rights, peace and development We must all collectively contribute to leaving a legacy for the next generation by constantly sending the message that corruption does not pay, that it erodes morals and ethics, and that it is a hinderance to our efforts to transform societies, and secure a better future for all.
As we know, States are obligated under International Human Rights Law to make the maximum use of available resources in order to realize all human rights, including economic, social and cultural rights. They have an obligation to combat corruption. This requires taking appropriate steps to prevent, suppress and provide redress for such abuses. Reinforcing an environment to combat corruption includes: i) safeguarding the rights to seek, receive and impart information; ii) includes safeguarding the conduct of public affairs; and the right to a fair trial before a competent, independent, and impartial court, established by law. International cooperation and technical assistance are essential to prevent, and suppress corruption, and to recover assets of illicit origin, derived from acts of corruption.
Importantly, an independent and impartial judiciary, an independent legal profession, an objective and impartial prosecution, and the integrity of the judicial system are essential to prevent and fight corruption and to address its negative impact on human rights. We also need the right to a fair trial, access to justice and to an effective remedy, without discrimination.
Human rights education and awareness-raising campaigns and other measures are important enablers for the prevention of and the fight against corruption. Effective regulatory and investigative mechanisms are essential with a view to holding perpetrators to account, and also essential for recovering assets derived from acts of corruption, and providing redress to victims, in accordance with the provisions of the United Nations Convention against Corruption.
We commend the government for boldly demonstrating political will to persistently fight corruption in order to strengthen good governance, transparency, and accountability especially in public service delivery. We look forward to the finalization of the National Anti-Corruption Policy which we are aware is at an advanced stage.
Your Excellency, Ladies and gentlemen
As I close, let me note that preventing and combating corruption strengthens democracy, human rights and the rule of law. It promotes social and economic development. It helps protect Zambia's vast natural and cultural wealth. It is conducive to job creation, helps achieve gender equality, and secures wider access to essential services such as healthcare and education. Simply put, action against corruption helps protect every person's right to justice and opportunity, to public services, and to a sustainable future.
On this day and beyond, let us continue to unite against corruption. Zambia can count on the support from the United Nations.
I thank You.
Speech by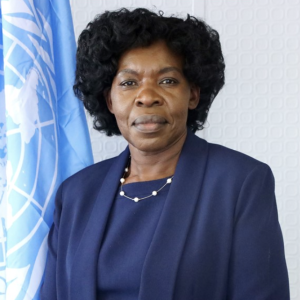 Beatrice Mutali
UN
Resident Coordinator
UN entities involved in this initiative
RCO
United Nations Resident Coordinator Office
UNODC
United Nations Office on Drugs and Crime