UN Special Representative to the African Union Confers With Zambia's Vice-President
UN Envoy Hails Zambia's Partnership with the United Nations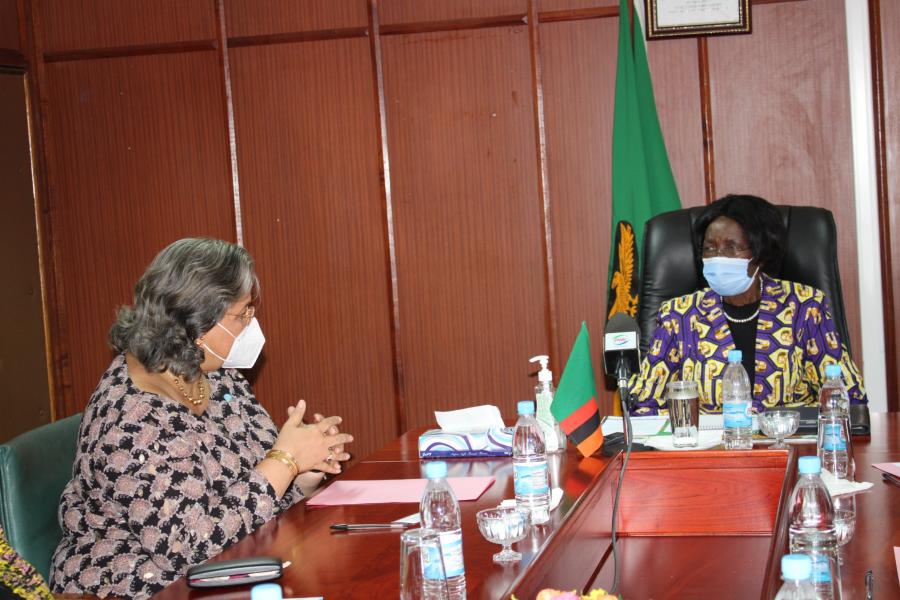 Photo | Mark Maseko/UN Zambia/2021
Special Representative of the United Nations Secretary-General to the African Union and Head of the United Nations Office to the African Union, Hanna Tetteh, has noted that if not well-managed, elections can lead to the rapid spread of COVID-19.
Speaking on Tuesday 1 June when she paid a courtesy call on Zambia's Republican Vice-President Mrs Inonge Wina, Ms Tetteh expressed happiness with the measures that Zambia had put in place to guide the conduct of political campaigns ahead of Zambia's general elections in August to prevent the spread of the coronavirus.
"The important thing is that whatever measures have been developed by the key stakeholders within the public services and in engagement with other actors are applied consistently," said Ms Tetteh.
She noted that it is in the consistent application of the protocols that all the political actors would feel that they had the opportunity to campaign amid the challenges posed by the COVID-19 pandemic.
Ms Tetteh said the UN was ready to provide any support that Zambia may need to support the process of having free, fair and credible elections within the constraints posed by the pandemic.
And the Vice-President indicated that Zambia was ready to hold the August 2021 elections in line with the country's Constitution, the revised SADC Principles and Guidelines Governing Democratic Elections, the Guidelines for African Union Electoral Observation Monitoring Missions, the UN Charter as well as other relevant regional and international instruments on the promotion of democratic values and principles.
"Government is committed to ensuring the rule of law, transparency, equity and inclusiveness in the participation of both men and women as a key cornerstone of good governance. This is in order to continue the needed contribution to progress on the Sustainable Development Goals and the Vision 2030 for the country," said Mrs Wina.
Ms Tetteh is on an official visit to Zambia from 31 May – 4 June 2021 as part of the United Nations' continued engagement and support to Zambia ahead of the August 2021 General Elections. The purpose of Ms Tetteh's visit is to consult with the Government and other stakeholders on the United Nations' continuing assistance to Zambia in addressing all national priorities and maintaining a peaceful national environment during this period and beyond.
During her visit, Ms. Tetteh is meeting with senior Government officials, the Electoral Commission of Zambia (ECZ), key national institutions, United Nations agencies, the diplomatic corps, Civil Society Organisations and Non-Governmental Organisations, as well as the media. She will also engage with representatives of special interest groups, such as youth, women, persons with disabilities and Faith-Based Organisations.
The United Nations does not observe elections but supports countries prepare for elections. Observing elections is not within the UN's mandate.
###
UN entities involved in this initiative
DPPA
United Nations Department of Political and Peacebuilding Affairs
RCO
United Nations Resident Coordinator Office
UNOAU
United Nations Office to the African Union