2020 Report of the Secretary-General on the Work of the Organization
In 1945, world leaders gathered in San Francisco to sign the Charter of the United Nations, which gave birth to an organization that represented new hope for a world emerging from the horrors of the Second World War. Our founders were in no doubt about the kind of world that they wished to banish to the past.
In 2020, as the United Nations celebrates 75 years since the Charter's signing, we have an opportunity to reflect on our shared progress, as well as our common future. Our vision and values – based on equality, mutual respect and international cooperation – helped us to avoid a Third World War, which would have had catastrophic consequences for life on our planet.
Augmenting the traditional text-focused publications, this version of the Annual Report draws on data, infographics, maps and imagery to highlight progress of the past year through coherent and innovative "storytelling."
The Annual Report highlights our collective work to drive the Decade of Action for the Sustainable Development Goals, amplify climate action, promote gender equality, protect human rights, advance peace and security, coordinate humanitarian assistance, promote international justice and law, further disarmament, increase drug control, crime prevention and combat international terrorism, and accelerate and consolidate United Nations Reform.
For the first time, it also provides a sampling of the work of the broader United Nations family as well as the system-wide efforts to help respond to COVID-19 and to build a more inclusive and sustainable world.
Read the full report here.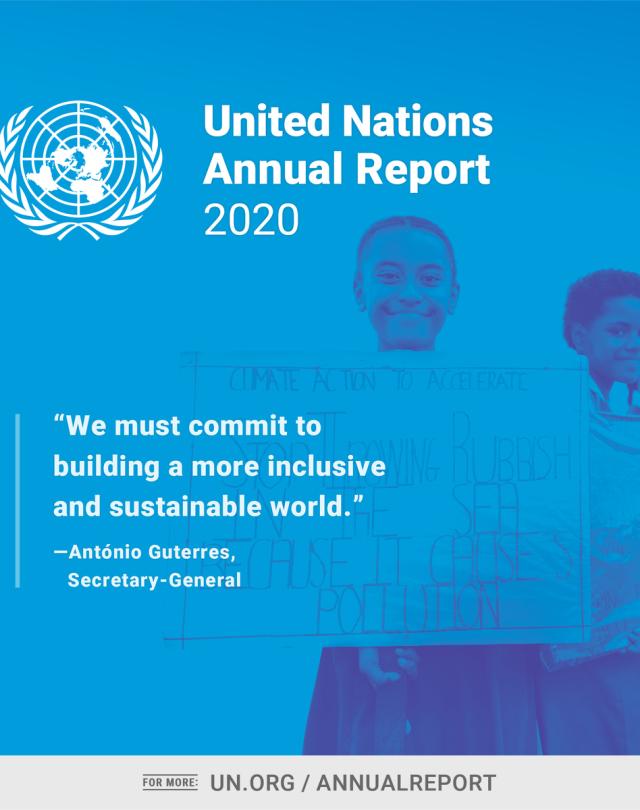 Goals we are supporting through this initiative